You should definitely consider adding a reliable cleaver knife to your arsenal of cutlery if you want to hack thick slabs of meat in one cut. A cleaver knife is a powerful knife with a long, tall blade that makes easy work out of chopping, slicing, and butchering.
The standard length of a clever knife, which also goes by the name "meat cleaver," is 10.5 to 12 inches in length, and up to 5 inches tall. However, the exact dimensions of a cleaver knife may vary from brand to brand.
While there is no such thing as a one-size-fits-all cleaver knife, home cooks will typically find comfort in a mid-sized, mid-weight cleaver as opposed to large, oversized knives used by hardcore butchers. If you'd like to learn more about cleaver knives, I invite you to continue reading. I will go into greater detail about cleaver knife measurements in the following sections.
Cleaver Knife Sizes
A general description of a cleaver knife is a knife that has a rectangular blade. The wide sides of the blade allow you to crush ingredients like garlic, while the edge will dice, chop, and slice anything from vegetables to meats.
A quick look online will yield hundreds of cleaver knives of different sizes and styles. Below, I'll list the measurement specs of some of the most popular cleaver knives available on Amazon.
As you can see, the measurement specs of a cleaver knife are all over the place. Some cleaver knives measure over a foot from the butt of the handle to the top of the blade, while the sides of the blade go up to 5 inches in height.
Cleaver Knife Weight and Blade Sharpness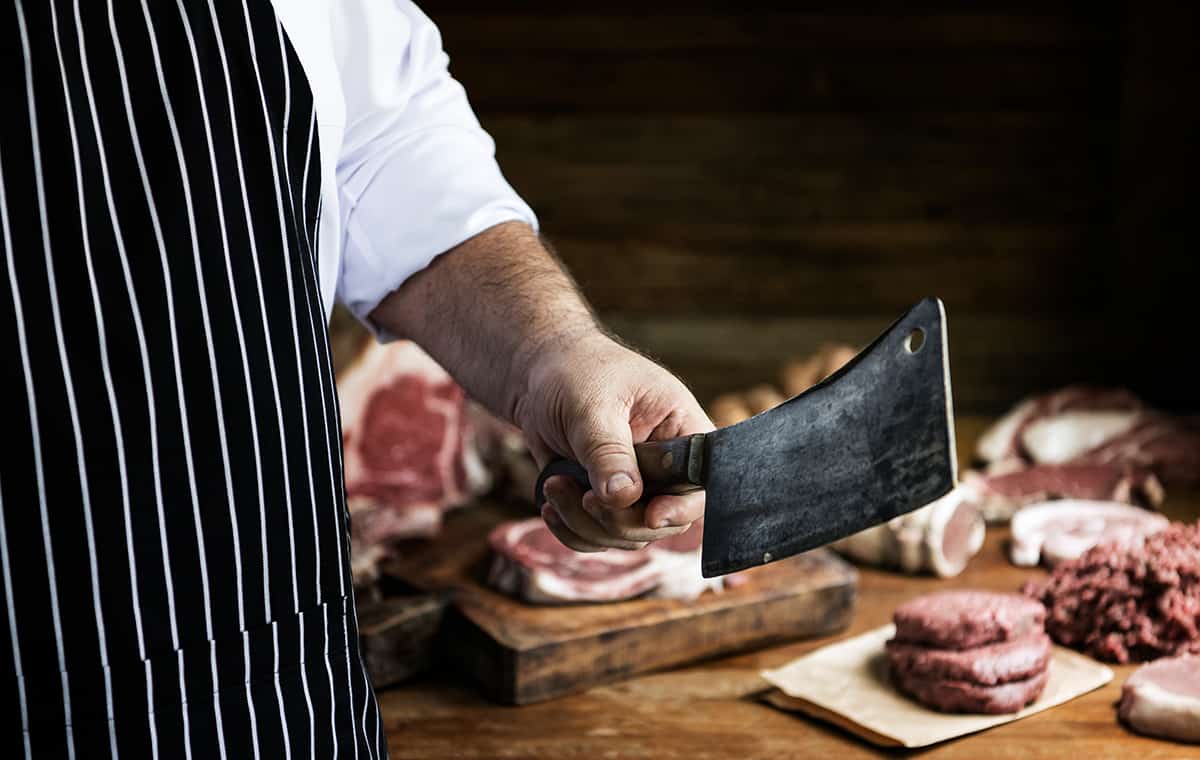 Something worth noting about cleaver knives is that their weight does most of the work. You will generally find better use of a heavier cleaver knife when cutting through thick slabs of meat, bone, cartilage, or root vegetables.
Of course, the sharpness of the blade will also play an important role in how cleanly it cuts through meats and vegetables. The typical cleaver knife will have a 20 to 25-degree edge, which is perfect for tearing through tendons and thick fibers. So, you might want to consider investing in a knife sharpener, such as the Chef'sChoice 4643 on Amazon, to keep your cleaver intact and ready to cut.
The Hole of a Cleaver Knife
One feature that is instantly identifiable in most cleaver knives is the hole located near to the top corner of the knife's spine. The hole is typically used for hanging the knife when not in use since the long, tall blade would otherwise take up drawer space.