If you've ever wondered whether it's worth it to buy a brownie pan, this article is going to give you something to think about. A specialist brownie pan will be made up of several individual squares in one single pan so that you can make individual brownies that are all consistent in size and shape. A brownie pan will make it so much easier to cook perfect brownies, but does this pan have any other uses?
Here we look at a wide range of both sweet and savory recipes that can be cooked in a brownie pan, so you can get the most use out of this specialist piece of baking equipment.
What is a Brownie Pan?
A brownie pan is a type of pan that is shaped to make a number of identical square brownies. It is much like a muffin pan, but instead of being circular, the cutouts are square.
Brownie pans are usually made from metal or silicone, and both of these work well for making brownies. Some people prefer silicone because you can remove your brownies with a much lower risk of sticking, but metal trays are preferred by those who like their pans to be sturdy.
Do I Need a Brownie Pan?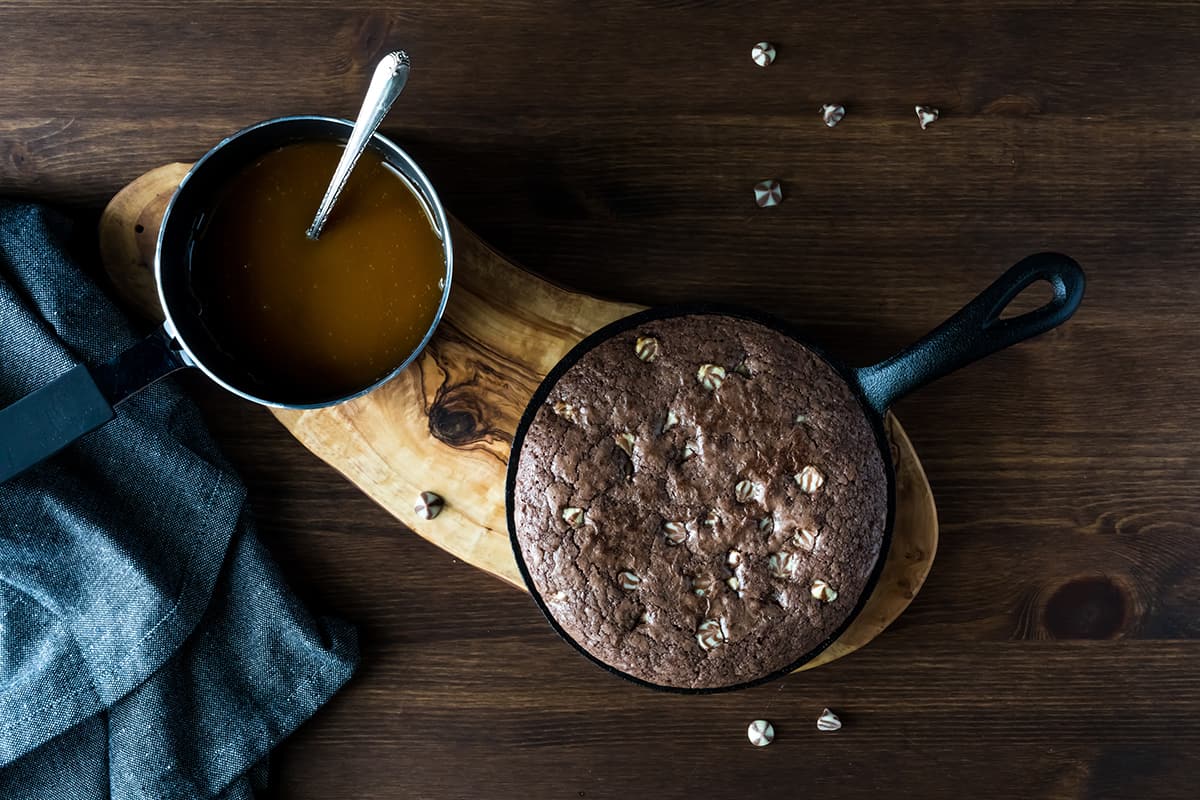 Brownies can be made in a wide variety of pan types, and you certainly don't need a brownie pan to make brownies. You could use a bread pan, a cake pan, a casserole dish, or even a quiche dish to bake your brownies in.
If you want to take advantage of the benefits a brownie pan can offer, you may be wondering if it's worth spending money on a pan that only has one use. If this is your concern, you can be assured that brownie pans can actually be used to make a number of different foods.
Brownie Pan Recipes
Blondies
An obvious way to use a brownie pan is of course to make blondies. These are the non-chocolatey version of brownies if you prefer something that isn't quite so rich, and they are usually flavored with vanilla but you can flavor them any way you like.
To make blondies, you will need:
¾ cup unsalted melted butter
1 cup light brown sugar
¾ cup granulated sugar
2 large eggs
2 teaspoons pure vanilla extract
2 cups all-purpose flour
1 teaspoon baking powder
½ teaspoon salt
1 cup white chocolate chips
Method:
Preheat the oven to 350°F and grease the inside of your 12-portion brownie pan.
Add the brown sugar, granulated sugar, and melted butter to a mixing bowl and combine. Then add the vanilla extract and eggs.
Fold the flour, baking powder, and salt into the mixture until just mixed.
Use a large spoon to divide the batter evenly into the squares of your brownie pan, and cook for 20 minutes.
Carrot cake
Any type of cake recipe can be made in a brownie pan, and the result will of course give you individual portions of cake slices rather than a whole cake you need to slice up. Individual slices can work well for children's lunch boxes, or to serve at a baby shower or engagement party where you don't want the hassle of cutting and serving a large cake.
Children's birthday parties are also a good place to use brownie portions of cake because every slice will be the same to prevent any upset. The shape and size of cakes baked in a brownie tin also make them easy to fold inside a napkin and add to a party bag. Here we share a carrot cake recipe that works really well in individual portions.
To make carrot cake slices, you will need:
3 large eggs
⅔ cup vegetable oil
½ cup light brown sugar
1¼ cups all purpose flour
2 teaspoons baking powder
¾ teaspoon ground ginger
½ teaspoon ground cinnamon
¼ teaspoon ground nutmeg
1 cup grated carrots
Method:
Preheat the oven to 350°F and grease the inside of your 12 portion brownie pan.
Whisk the eggs, sugar and vegetable oil together in a mixing bowl. Then fold in the flour, baking powder, and spices.
Add in the grated carrots until evenly distributed in the batter.
Spoon the mixture evenly into the brownie pan, and put into the hot oven for 15 to 20 minutes. Poke a cocktail stick into the batter to check if the carrot cake is done; the stick should come out clean.
Wait for the cakes to cool, then add frosting to each slice using a mixture of ½ cup cream cheese, 2 cups icing sugar, ½ stick of butter, and 1 teaspoon of orange extract.
Mini omelets
Mini omelets are a fun way to serve children a filling and nutritious breakfast. To make these, whisk eggs in a mixing bowl and add in some small chunks of chopped peppers, chopped tomatoes, and chopped mushrooms. You could also sneak some grated carrot or pre-cooked spinach into the mix for extra goodness.
For a brownie tray with 12 portions, you will need 4 or 5 eggs, plus your extras to fill them out. Add a few drops of olive oil to each brownie square before pouring your egg mixture into the pan, then sprinkle cheese on top for some extra flavor and texture. Put the tray into an oven that has been preheated to 375°F. You could get creative with what you put in your mini omelets, and even use leftovers from yesterday's dinner to reduce waste.
Cooked leftover broccoli works really well with cheddar cheese mini omelets, or you could add pieces of bacon or sausage to make them more tempting to your children. The mini omelets will take around 20 minutes to cook, and should be firm all the way through before you serve them.
Mini sausage rolls
Mini sausage rolls are super quick and easy to make, and they are always a winner as a warm snack for kids and adults alike. To make these, you will need some pre-rolled puff pastry from the grocery store, and a pack of sausage meat. Lay the pastry out on a floured counter, and then arrange the sausage meat in a long strip from top to bottom.
Roll the pastry over the top of the sausage meat and seal it with egg wash, then apply egg wash over the top of all the pastry. The sausage meat should be completely enveloped in the pastry. Now slice the log into individual portions which will fit into your brownie tray.
Put a few drops of olive oil into each brownie square before laying your mini sausage rolls into their spots, then put the tray into a preheated oven at 375°F for 10 to 15 minutes. You will know the sausage rolls are ready when they have puffed up to double their size, and the outer pastry is a golden brown.