Kitchens are incomplete without a dishwasher. But before getting a dishwasher, you need to consider where you want to place it if you're remodeling or building a house from scratch. For instance, do you know whether it's safe to install under the sink?
If you like, you may install a dishwasher under the sink. Just make sure to choose a dishwasher model that is specifically designed to fit under a sink to ensure that it works properly.
So, is installing a dishwasher under the sink the optimal location? How do you know whether an under-the-sink dishwasher is right for your kitchen? What dishwasher models can fit under a sink? I'll answer these questions based on extensive research in the following sections.
Dishwasher Placement Options
When deciding where to place a dishwasher, there is only one thing you need to ask—does it have access to a water and drain line?
So, anywhere you decide to install your dishwasher, even inside kitchen cabinets underneath sinks, as long as you can run a water and drain line to the appliance, you can theoretically set it up without issue.
The most popular spot to install dishwashers are to the right or left of the sink. The machine will come with several-foot-long pipes that connect to the existing sewer and water line. That way, the appliance will not get in the way of the plumbing system under your sink.
However, if you don't want to carry freshly scrubbed dishes to a dishwasher located several feet away, which can be a pain in the neck, then you might want to consider placing the machine underneath your sink inside a cabinet.
Can a Dishwasher Go Under the Sink?
The short answer to this question is, yes, a dishwasher can go under a sink. Before sticking your dishwasher down there, you will have to consider the following things.
Some people prefer placing trash bins underneath their sinks. This not only keeps unsightly garbage out of plain sight, but it also helps prevent foul odors from wafting out of the kitchen into the living room. So, do you want to place your dishwasher next to your garbage bin or remove the garbage bin to make room for the appliance?
In addition, there are times when installing a dishwasher under the sink is mandatory. For instance, if your kitchen doesn't offer a ton of real estate for freestanding appliances, then you have to make do with what little space you have.
In this case, an under-the-sink dishwasher might be the only viable option you have. Either that or go with a countertop dishwasher, which has a limited washing capacity.
Is an Under the Sink Dishwasher Right for My Kitchen?
Even though you can install a dishwasher under your sink, is that the right thing to do? First, let's take a look at the pros and cons of this placement.
Pros
Integration—Like any kind of built-in dishwasher, under-the-sink dishwashers do not need to be wheeled around. They become kitchen fixtures, so you won't have to think about finding real estate to place the dishwasher. Plus, your kitchen sink might have empty space underneath it anyway, so what better way to make use of it than to get a dishwasher?
Less Noise—If you've never used a dishwasher before, you probably know that they can get pretty loud. However, the more you surround the dishwasher, the less noise it will make. You can further reduce its noise output by shutting the cabinet door over the dishwasher's door, if applicable.
Appearance—While looks aren't everything, we can't ignore that they play a large role in determining which appliances we get. In the cast of under-the-sink dishwashers, they can blend in seamlessly with the surroundings. Plus, they can give your kitchen that extra oomph to impress.
Cons
Size Matters—Earlier, I said that the typical under-the-sink dishwasher will stand 34 inches tall. Do you have that much space underneath your sink? If you don't, then it's going to be impossible to install the dishwasher there. If you do, you still have to consider how the shape of the dishwasher will affect the piping system behind it.
Maintenance Difficulties—When the dishwasher becomes a fixture in the kitchen, opening it to check on the control board or other internal components can be a challenge. At first, it might not seem like a problem, but the older the dishwasher becomes, the more technical difficulties it will experience.
How to Position an Under the Sink Dishwasher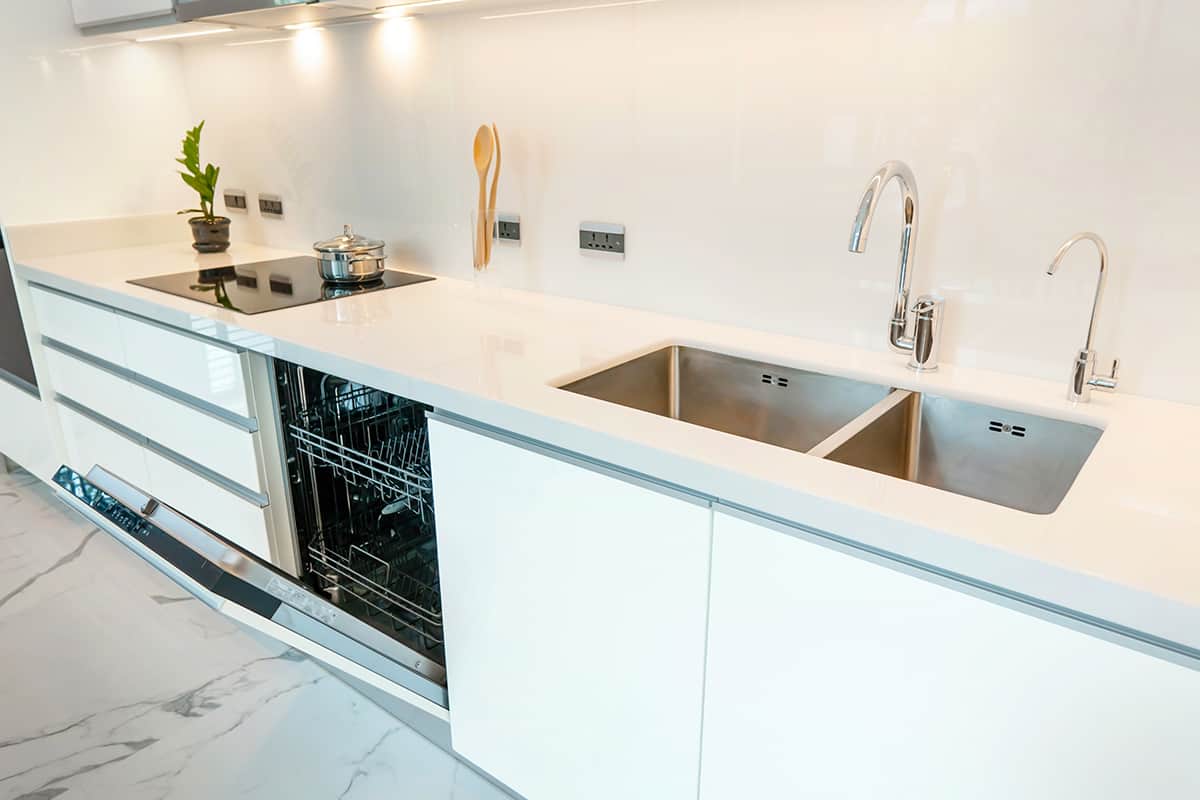 If you've decided to install a dishwasher under the sink, good for you—as long as you've installed it correctly, there shouldn't be any problems that require tearing the unit out, inspecting the back, and reinstalling. Because, in the end, getting it professionally installed might cost you quite a bit.
Anyway, if you're ready to install a dishwasher underneath the sink, make sure you pay attention to the following:
Free Space Underneath the Sink
Will the empty space beneath your sink accommodate a large dishwasher? Most dishwashers made for placement underneath sinks or in place of cabinets will stand 34 inches tall (35 inches with the legs extended out fully).
The exact dimensions of the dishwasher will vary from model to model. On average, you can expect an under-the-sink dishwasher to measure 34 inches tall, 24 inches wide, and about 26 inches deep.
The most important thing to consider is whether or not the plumbing system will get in the way of the dishwasher. Unless your sink is extraordinarily wide and deep, this won't be too much of an issue.
Vertical Clearance
Although the drain line will eliminate most of the steam after each wash cycle, there's a chance that the line might become damaged over time. When this happens, steam will escape through any cracks in the line and occupy your cabinet, which, when cooled, will create the perfect breeding ground for bacteria.
So, to void this from happening, measure the space beneath your sink and record the height. You should try and find a dishwasher that is 1 to 2 inches shorter than that. The empty vertical space will act as ventilation to let humid air or steam escape from the dishwasher.
Flush with Cabinet Doors
Another important point to consider is how far forward or deep you want to install the dishwasher. It's generally recommended that the dishwasher should sit flush with the adjacent cabinet doors when the machine's door is shut. That way, there's no risk of accidentally bumping into the machine when it's not in use.
Another reason for doing this is to prevent steam from escaping the dishwasher's opened door and entering the empty cabinet space. Any moisture that gets locked inside the cabinet may contribute to mold growth, with is a pain to eradicate.
Lateral Gap Space
Finally, you should find a dishwasher model that will leave as little room as possible on either side of the empty cabinet space. For instance, if you have a 24-inch spot for your dishwasher, look for a dishwasher that is as close to 24 inches in width as possible. That way, it will stop steam from entering the cabinet when you open the dishwasher's door.
Alternatively, you can use Styrofoam or plastic panels to block the sides, thereby preventing moisture from pouring inside the cabinet.
Best Under the Sink Dishwashers
EdgeStar BIDW1820WH
The EdgeStar BIDW1802WH stands 32.5 inches tall and measures 17.6 inches wide and 22.4 inches deep. As you can see, it's much smaller than the typical dishwashing unit, which makes it perfect for installing underneath sinks. Your kitchen cabinets will also lower the already-noiseless 52-dBa noise output that the machine generates.
GE GSM2200VWW
If you're looking for a brand-name dishwasher for under your sink, the GE GSM2200VWW is for you. It offers five different wash cycles, stands up to 34.5 inches tall (with extended feet), and has 2 dishracks for cleaning large dishes and cookware with ease.
hOmeLabs HM010033N
This dishwasher is wider than it is taller. As such, it will need to stand on top of another appliance for easy access, though you can more easily install it on top of your kitchen counter. It's large enough to clean up to 6 place settings in a single go, and it has a simple quick-connect assembly. In short, it's a plug-and-play device that takes up less space than traditional standing dishwashers.
SPT SD-9263SSA
The SPT SD-9263SSA is larger than the typical under-the-sink dishwasher. It stands 36 inches tall, but with the extra height, you will also get additional cleaning capacities. This unit can wash up to 8 dish settings in a single 90-minute cycle, and it comes with an Energy Star label to guarantee maximum power and water efficiency.
GE GSM2200
Last up, I have another GE model for you. The GSM2200 measures 35 inches tall, 27 inches wide, and 24.75 inches deep. As you can see, it's considerably larger than the models mentioned above, but with the unique Spacemaker upper rack, along with the 4-level PowerScrub, this under-the-sink dishwasher is just as powerful and efficient as most.