Do you love to cook? Then you'll go Dutch oven crazy for these versatile pots! They're perfect for braising, roasting, baking, and even frying. Plus, they're super durable and come in a range of sizes, so you can prepare entire feasts for large groups of people outdoors. Just don't forget the oven mitts—these bad boys get hot!
And speaking of hot, do you know what heat temperature to use whenever you want to cook something in a Dutch oven?
It's really more complicated than it seems with various affecting factors such as the sizes and number of briquettes used on top and bottom of the dutch oven. Without further ado, let's dig into the article.
A Brief Overview of the Dutch Oven
The Dutch oven is a type of pot that has a heavy lid and is made of cast iron, aluminum, or ceramic. It is used for cooking a variety of dishes, including stews, soups, roasts, and bread.
The Dutch oven has a long history, dating back to the 17th century in the Netherlands. It was originally used in the home but eventually became popular for outdoor cooking, particularly by campers, hunters, and social media "influencers."
The Dutch oven gained widespread popularity in the United States in the 19th century and is still a popular cooking vessel today. It is often used in outdoor cooking, as well as in the home kitchen.
Intro to Dutch Oven Cooking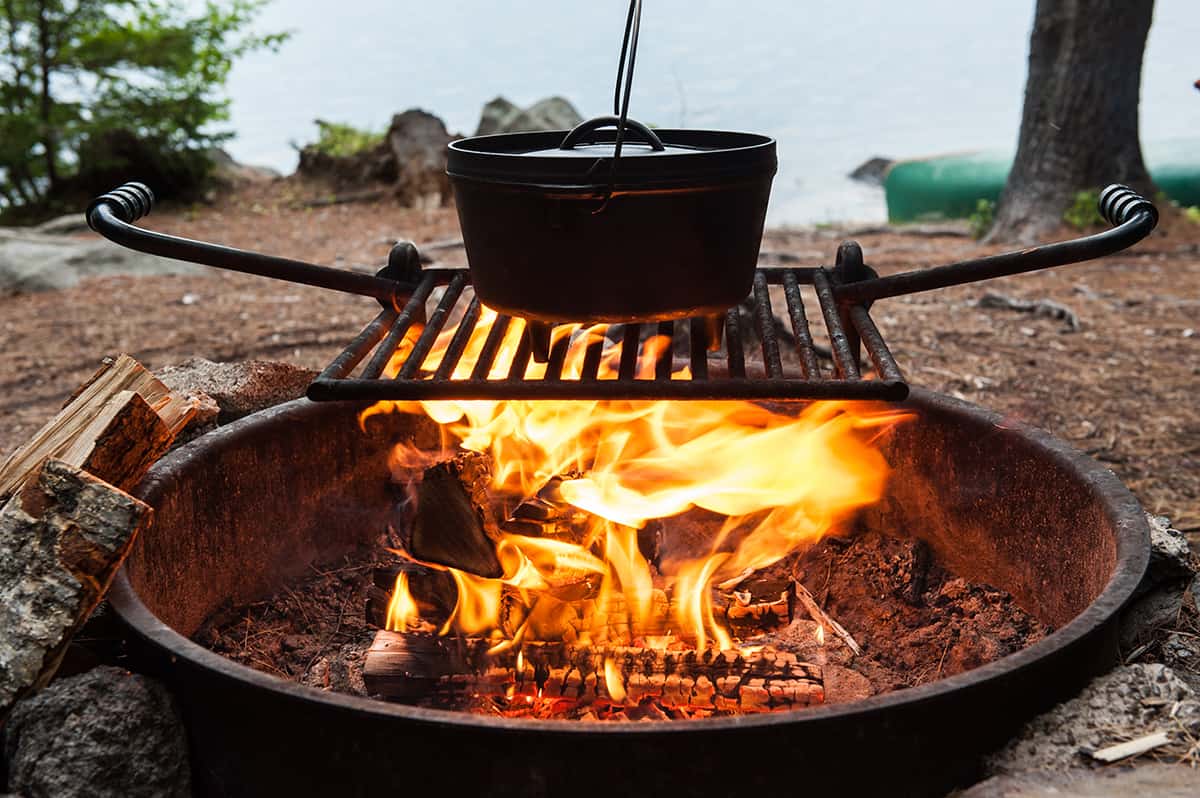 Dutch ovens work wonderfully in savory and sweet preparations alike, from soups to loaves of bread. Using Dutch ovens for food preparation has been popular for centuries.
One of the greatest benefits of using a Dutch oven is that it's durable enough to withstand direct and indirect heat. That means you can place a Dutch oven inside a traditional oven, on a stovetop, or even on a campfire.
Using a Dutch oven in an oven or on a stovetop is pretty straightforward. The pot needs to be hot enough to cook your food inside and out. You can achieve this by following the recipe to the letter, including cooking temperature and time. The real challenge is when you want to use a Dutch oven outdoors, where your only source of heat is the embers of a live campfire.
Dutch Oven Temperature & Briquette Count
In the following sections, I'll explain the various factors with tables and charts that will determine the overall cooking temperature and duration when using a Dutch oven outdoors.
Dutch Oven Sizes
There are 2 reasons you need to consider the size of the Dutch oven when cooking outdoors. The first is obvious; it will determine how many mouths you can feed when preparing a single batch of food. The larger the Dutch oven, the more hungry stomachs you can satisfy.
Secondly and arguably more importantly, the size of the Dutch oven determines how many wooden logs, wooden pellets, or briquettes you need. A larger Dutch oven will require significantly more fuel to increase and maintain the desired cooking temperature.
So, let's see what the typical sizes of a Dutch oven are.
| | | |
| --- | --- | --- |
| Approximate Diameter (in.) | Size (qt.) | Number of People |
| 8 | 2 | 1 to 2 |
| 10 | 4 | 1 to 2 |
| 12. | 6 | 2 to 3 |
| 14. | 8 | 2 to 4 |
| 16. | 10 | 4 to 7 |
| 18. | 12 | 5 to 12 |
| 18+. | 14 | 7 to 14 |
Dutch Oven Temperature Chart
Cooking outdoors with a Dutch oven can be just as simple as cooking in an oven or on a stovetop. Your ultimate goal should be to reach and maintain the optimal cooking temperature based on whatever recipe you follow. The problem is, what if the recipe doesn't include a specific cooking temp?
If a recipe directs you to follow a heat level, use the following chart as a temperature guide.
| | |
| --- | --- |
| Heat Level | Temperature Range (°F) |
| Slow/Low | 250 to 350 |
| Moderate/Medium | 350 to 400 |
| Hot/Medium-High | 400 to 450 |
| Very Hot/High | 450 to 500 |
Dutch Oven Briquette Chart
The great thing about Dutch ovens built for the outdoors is that you can heat them up from the top and bottom. The snug lid will prevent most of the ash from your campfire from getting into the food. That said, you should know how to divide the briquettes between the top and bottom of your Dutch oven.
Use this table to figure out how many briquettes you need on and underneath your Dutch oven based on its and the desired cooking temp.
Dutch Oven Size (in.)
325°F
350°F
375°F
400°F
425°F
450°F
8
Total: 15

Top: 10

Bottom:5

Total: 16

Top: 11

Bottom:5

Total: 17

Top: 11

Bottom:6

Total: 18

Top: 12

Bottom:6

Total: 19

Top: 13

Bottom:6

Total: 20

Top: 14

Bottom:6

10
Total: 19

Top: 13

Bottom:6

Total: 21

Top: 14

Bottom:7

Total: 23

Top: 16

Bottom:7

Total: 25

Top: 17

Bottom:8

Total: 27

Top: 18

Bottom:9

Total: 29

Top: 19

Bottom:10

12
Total: 23

Top: 16

Bottom:7

Total: 25

Top: 17

Bottom:8

Total: 27

Top: 18

Bottom:9

Total: 29

Top: 19

Bottom:10

Total: 31

Top: 21

Bottom:10

Total: 33

Top: 22

Bottom:11

14
Total: 30

Top: 20

Bottom:10

Total: 32

Top: 21

Bottom:11

Total: 34

Top: 22

Bottom:12

Total: 36

Top: 24

Bottom:12

Total: 38

Top: 25

Bottom:13

Total: 40

Top: 26

Bottom:14

16+
Total: 37

Top: 25

Bottom:12

Total: 39

Top: 26

Bottom:13

Total: 41

Top: 27

Bottom:14

Total: 43

Top: 28

Bottom:15

Total: 45

Top: 29

Bottom:16

Total: 47

Top: 30

Bottom:17
Briquette Ratio Based on Cooking Method
The previous section explains the number of briquettes you'd need for basic cooking methods. However, if you want to bake, roast, simmer, or fry something, you'll have to follow a completely different ratio of top-and-bottom briquettes.
| | |
| --- | --- |
| Cooking Method | Top-Bottom Briquette Ratio |
| Roasting | 1:1 |
| Baking | 3:1 |
| Simmering/stewing | 4:1 |
| Frying/boiling | All on the bottom |
For instance, say you bake chicken in a 12-inch-diameter Dutch oven. If you want to cook it low and slow, you would need a total of 23 briquettes. Baking with briquettes in a Dutch oven requires a 3:1 ratio, with the majority of them being on top of the lid. So, you would need 17 or 18 on top and 5 or 6 underneath your Dutch oven.
Dutch Oven Cooking FAQs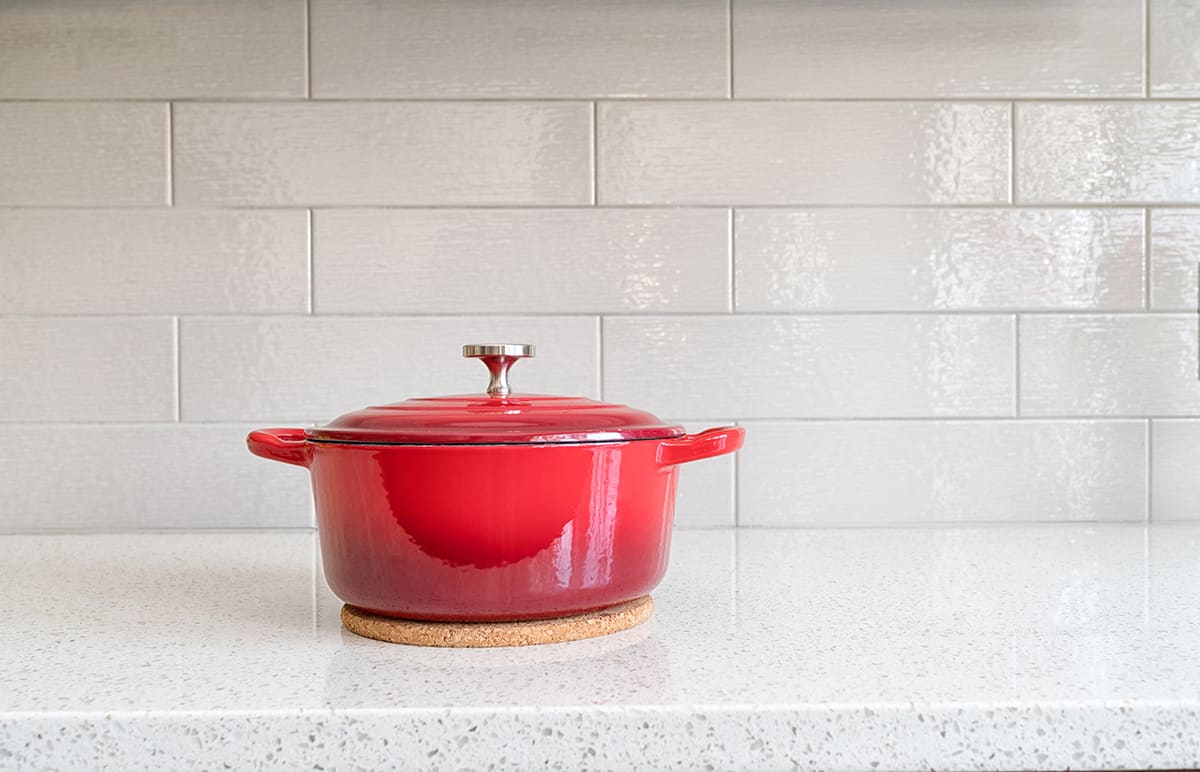 1. How do you stop the wind from blowing out your campfire?
There are several strategies you can try to block the pesky forces of nature from ruining your good time. These include choosing a sheltered spot or setting up a windbreak or a windscreen.
If you have trouble starting a fire in the first place, try using a windproof lighter. The Tesla Coil lighter is a rechargeable lighter that can spark a fire up to 300 times per charge.
2. Do you need to season a Dutch oven?
It depends on what it's made of. Most Dutch ovens fall into the enamelware category, which does not need seasoning at all. On the other hand, for outdoor cooking, you should leave your fancy enamelware at home and opt for something a little more rugged, such as a cast-iron Dutch oven.
In this case, it certainly wouldn't hurt to season the pot before you venture into the wild. Take a look at this guide to learn how to season cast-iron pots and skillets without an oven.
3. What Dutch oven size should you get?
When it comes to cooking with a Dutch oven, especially outdoors, bigger is not always better. The larger the pot, the more space it will take, and the heavier an item you will have to lug around.
Ideally, you should choose a Dutch oven that can prepare the exact amount of food you need based on how many hungry mouths there are. A good rule of thumb is that a 5 to 7-quart Dutch oven is perfect for 4-hungry people.