It's 2023, when sustainability and eco-friendliness are at the forefront of our minds. We've come a long way from the days of harsh chemicals and single-use plastics, and now, even our dishwasher detergent can be natural and biodegradable. But with so many options on the market, which ones truly live up to their eco-friendly claims and also leave our dishes sparkling clean?
Here's a list of the best natural dishwasher detergents you can get in 2023:
Best Natural Dishwasher Detergents in 2023
If you want a natural dishwasher detergent that's effective and easy to use, try Puracy Dishwasher Pods. These pods are made from plant-based ingredients that remove tough grime and dried-on food without you needing to soak or pre-rinse your dishes. Just scrape your plates and put them in the dishwasher, and let the pods do their job.
Puracy Dishwasher Pods are made from 99.5% natural ingredients, so they're a great choice for people who want to avoid harsh chemicals. They're also biodegradable, cruelty-free, and hypoallergenic. You can use them to clean all kinds of dishwasher-safe items, like pots, pans, baby bottles, and cups. When you're done, you'll have spot-free, squeaky-clean dishes with no residue left behind.
Puracy has worked with biochemists to develop these dishwasher pods, and they've tested them in households all over the country. So you can trust that they work well. And if you're not satisfied with the product, Puracy offers a Pure Love Guarantee where they'll refund 100% of your purchase price, no questions asked.
Lemi Shine Natural Dishwasher Pods are a great way to clean your dishes effectively and with eco-friendly ingredients. The pods use both powder and gel to get rid of stains, with powerful citric acid molecules that leave a fresh lemon scent. You can put your dirty dishes straight into the dishwasher without pre-washing, even if they have tough lipstick stains.
The formula is free of fragrances and bleach, which makes it great for cleaning dishes that have hard water stains and grease. It's also safe for families with pets and children and won Best Green Cleaning Products 2022 in PARENTS Magazine. Lemi Shine is committed to eco-friendliness, and they're a Designed for the Environment (DfE) Partner product.
If you're looking for an eco-friendly and effective way to clean your dishes, Nellie's Dishwasher Powder is a great choice. Unlike liquid detergents that are mostly water, Nellie's powder formula has more cleaning power packed into a smaller space, making it a more efficient option. Plus, it's phosphate-free to make it better for the environment.
To use Nellie's Dishwasher Powder, make sure to use the hottest water available (60°C-70°C/140°F-150°F) and fill the detergent cups as recommended by the machine manufacturer. If your machine doesn't have a cup dispenser, you should put one tablespoon of powder in the bottom of the dishwasher for an average load of dishes. If you live in an area with hard water, you may need to use more powder, while soft water areas may require less.
Better Life Natural Dishwasher Gel is a fantastic eco-friendly way to clean your dishes. It's made with natural cleaning agents like soap bark, corn, and coconut, which is great for people who prefer plant-based products. The ultra-concentrated formula easily removes tough stains and stuck-on food, leaving your dishes sparkling clean with no film or cloudiness.
Using Better Life Natural Dishwasher Gel is easy. Just shake the bottle and squirt the gel into your dishwasher's detergent cup. You can use it on all types of dishes, glasses, utensils, pots, and pans. The plant-based cleaning agents cut through grease and grime, leaving your dishes smelling fresh and clean.
Better Life is a Leaping Bunny certified company, which means they never test on animals. This dishwasher gel is a cruelty-free option that you can feel good about using. With its powerful plant-based cleaning agents and cruelty-free certification, Better Life Natural Dishwasher Gel is an excellent choice for anyone looking for a natural and powerful way to clean their dishes.
Grab Green Automatic Dishwashing Detergent Pods are a convenient and eco-friendly way to clean your dishes. The bag comes with 60 pre-measured pods, and it has a velcro closure that makes it easy to use without struggling with frustrating zip closures. These pods are specially formulated to clean through grease and stuck-on food without the use of harsh chemicals, leaving your dishes with a spot-free and brilliant shine.
The pods are hypoallergenic and fragrance-free, which makes them perfect for people with fragrance sensitivities. They don't contain any scents or dyes, so you can tackle your toughest loads without any discomfort. Plus, the kitchen solutions are septic safe and made from naturally derived plant and mineral-based ingredients, without any phosphates, phthalates, chlorine, toxins, dyes, or masking agents.
FAQs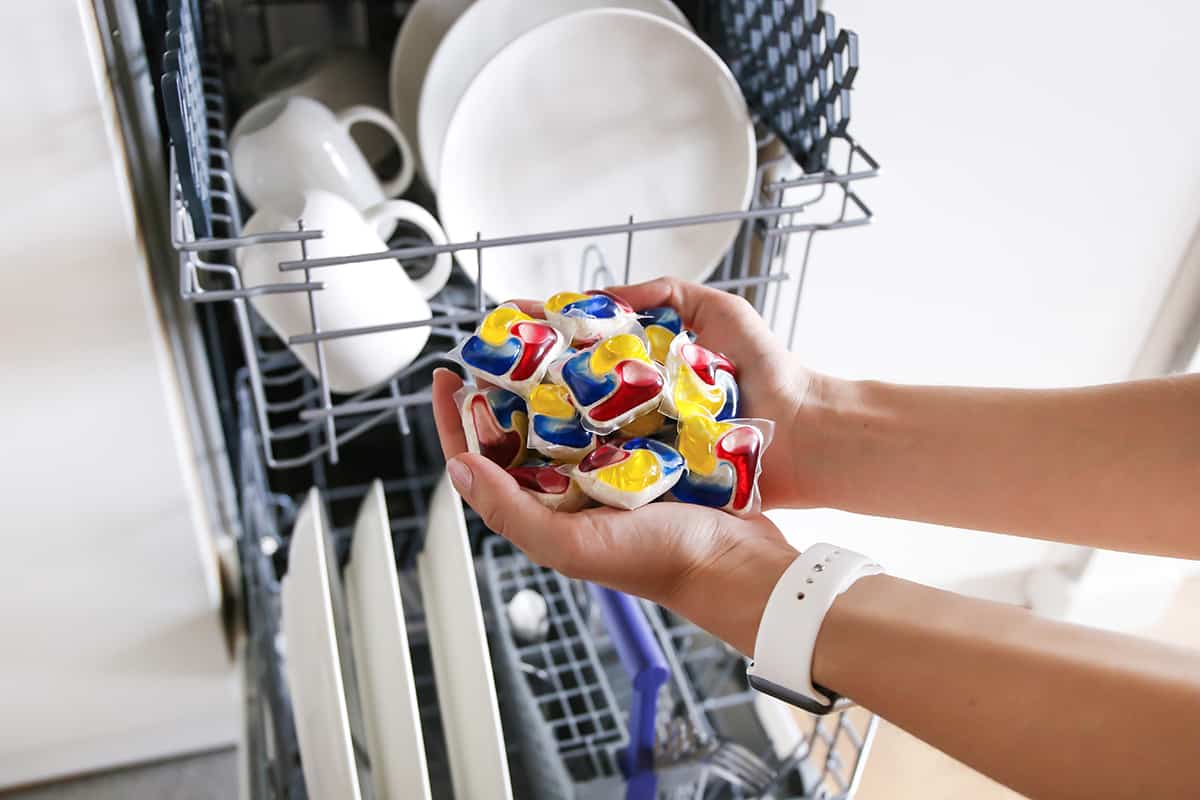 1. What is a natural dishwasher detergent?
Natural dishwasher detergents are cleaning products that use ingredients derived from plants, minerals, and biodegradable materials. They don't contain harmful chemicals, synthetic fragrances, or dyes that can harm the environment. Instead, they provide an eco-friendly option for cleaning dishes that is safe and effective.
These detergents can remove tough stains and grime without leaving any residue or film on dishes. Additionally, you can also make your own natural dishwasher detergent using common household ingredients such as citric acid, washing soda, and baking soda.
2. Are natural dishwasher detergents good for the environment?
Using natural dishwasher detergents is better for the environment than synthetic ones. This is because natural dishwasher detergents are made from plant-based, mineral-based, or biodegradable ingredients that are safe for people, pets, and the environment.
They also don't contain harsh chemicals, artificial fragrances, or dyes, which makes them a safer and more eco-friendly option for cleaning dishes. Additionally, most natural dishwasher detergents are packaged in eco-friendly materials, which helps promote recycling and reduces waste.
So, by using natural dishwasher detergents, you can clean your dishes and feel good about helping to protect and preserve the environment.
3. Gels vs. powders vs. liquids vs. pods—which one should you get?
When it comes to choosing a dishwasher detergent, you have a lot of options. But which one should you choose? Here are some things to think about:
Cleaning Power—All types of detergent will clean your dishes, but some brands might work better than others.
Convenience—Pods and gels are the easiest to use because you don't have to measure anything. Powders and liquids require measuring and pouring.
Eco-Friendliness—Look for detergents that are environmentally friendly, with biodegradable or natural ingredients. Note: the products listed above are all eco-friendly!
Dishwasher Compatibility—Make sure the detergent you choose is compatible with your dishwasher. Check the manufacturer's instructions for more details regarding which detergent type(s) you can and cannot use.
Water Hardness—If you have hard water, powders, and liquids might work better than pods and gels.
Price—Pods and gels are usually more expensive than powders and liquids. However, for their steeper price tags, you also get the convenience of not having to measure anything! That said, liquid and powder detergents can be much less stressful on your wallet.
At the end of the day, it's up to you to decide which type of detergent is best for you and your dishwasher. Just make sure it cleans your dishes well, is safe for the environment, and works with your dishwasher.
4. Can natural dishwasher detergents be used in all types of dishwashers?
Yes, you can use natural dishwasher detergents in any kind of dishwasher, whether it's an older or newer model. However, it's important to choose the right type of natural detergent for your dishwasher.
Different forms of detergents, such as gels, powders, liquids, or pods, may work better with different dishwasher designs and cycles. For instance, pods are ideal for newer dishwashers with short wash cycles because they dissolve quickly.
To ensure you get the best cleaning results, make sure to read and follow the instructions on your natural dishwasher detergent packaging.
5. Can you use baking soda and vinegar in a dishwasher?
Yes, you can. Vinegar and/or Baking soda are oftentimes used to unclog dishwashers as well as clean the entire inside of the machine. Just make sure that you use the correct proportions when introducing these everyday chemicals to your dishwasher.
That said, baking soda and vinegar are not substitutes for dishwasher detergent. The chemicals in these substances may have certain reactions against certain materials. So, leave dishwashing to the detergents!
6. Are natural dishwasher detergents more expensive than conventional ones?
It depends on the specific brand. Generally speaking, pods are always going to be costlier than the other detergent types, whereas liquids and powders are nearly tied for the cheapest detergent variety.
It's important to know that natural dishwasher detergents are usually made with ingredients that are safe for the environment and not harmful to people. However, these ingredients can be more costly to obtain and make compared to the chemicals used in regular detergents.