French fries, rightly or wrongly, are a staple of many people's diets. They are so popular because of their simplicity and because they are so delicious. They are a versatile side dish that can go with almost anything fried chicken, pizza, burgers, sandwiches, or they can be enjoyed alone.
You can mix up the taste of French fries with an array of different sauce options, including ranch, bbq, ketchup, mayonnaise, blue cheese, or even gravy.
French fries are easy to grab on the go from almost any fast food restaurant, but they are also super easy to cook at home. If you need an easy meal accompaniment, just chop a few potatoes and bake them in the oven, or turn to your freezer for frozen French fries that are always on hand.
You can even buy French fries from the grocery store that can be cooked in the microwave for an ultra-quick and easy meal. Here we look at one of the often-overlooked elements of French fries serving size.
French Fries Serving Sizes
If you have been wondering if your portion sizes are too large, then you are not alone. Many people have a tendency to fill their dinner plate with food and eat until it is empty, and if your meal is predominantly healthy vegetables or lean meats, then this may not be a problem, but certain foods should have a smaller portion size in order for us to maintain a healthy weight.
French fries are not healthy food, but the number of calories they contain will vary depending on how they are cooked.
Home Cooked French Fries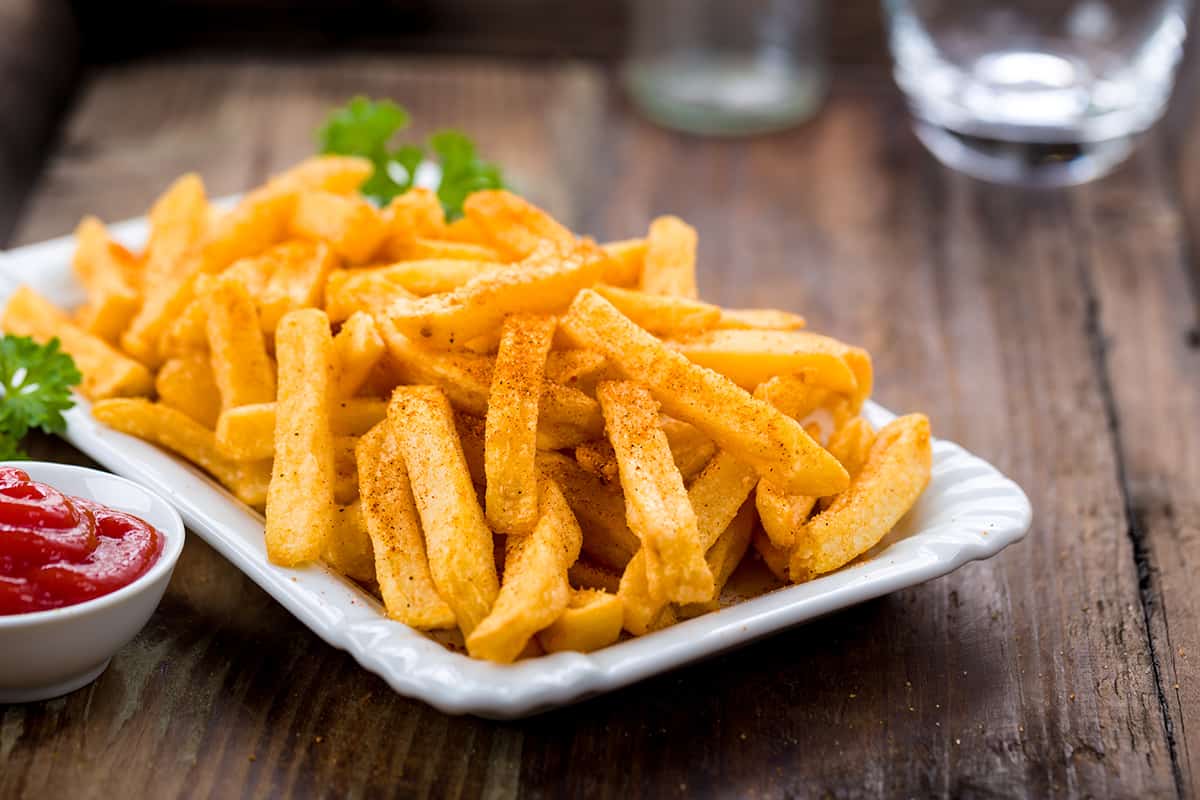 A single portion of French fries for an adult should be around 3 ounces. If you are making French fries at home, you could measure their weight before cooking or count the number of individual fries.
If your frozen French fries are a similar size to fast-food French fries, then you will want between 25 and 30 fries to make a 3-ounce portion. If you are making chunky steak cut fries, then you will need between 10 and 15 individual fries to make a 3-ounce portion.
When it comes to calories, the way you cook your fries is going to play a pivotal role in your calorie intake.
A standard 3-ounce portion of French fries baked in the oven or in an air fryer will have a calorie count of between 100 and 200. French fries from restaurants and fast food joints will usually be fried, giving them as much as double the amount of calories.
Fast Food French Fries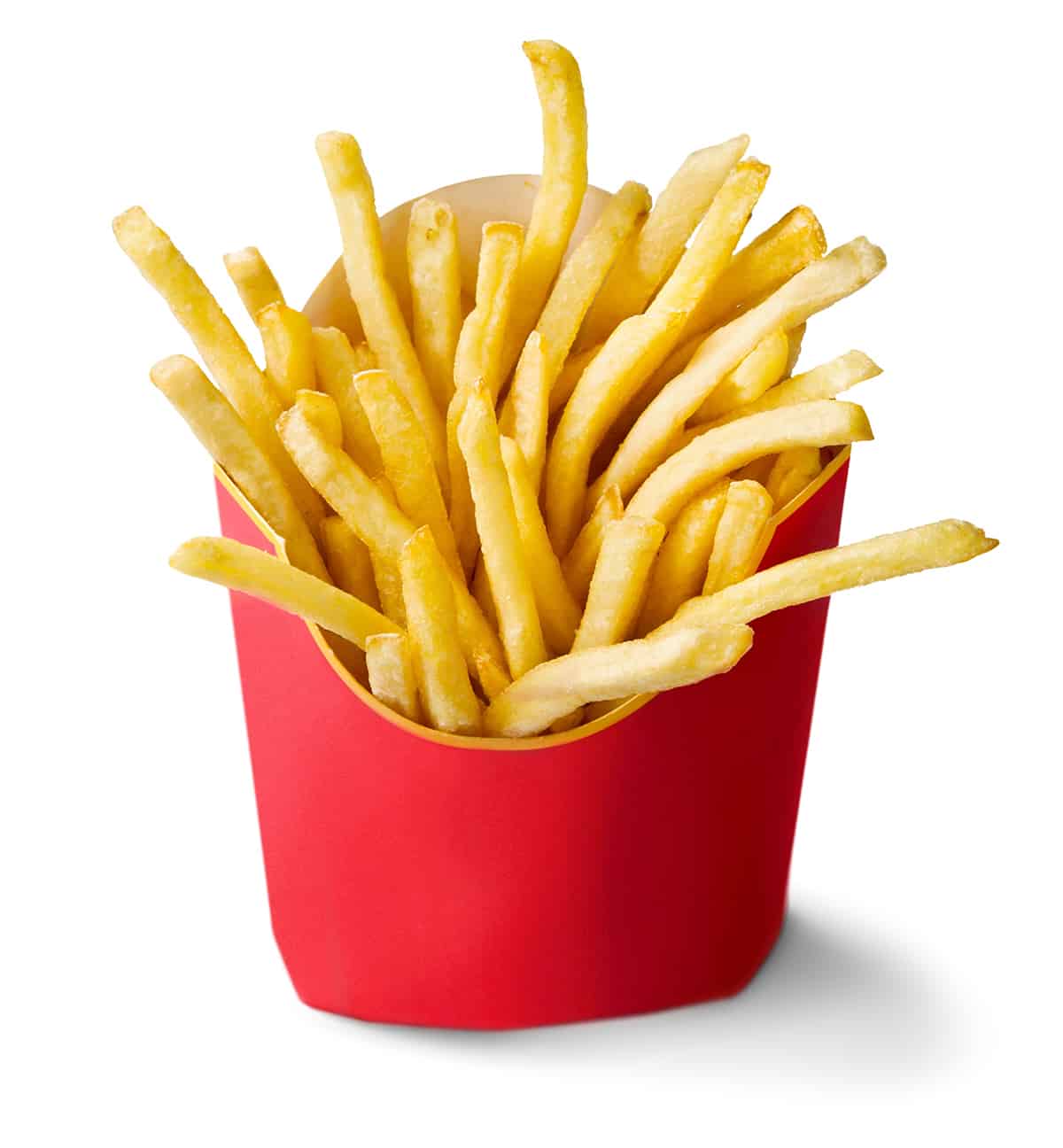 If you are getting French fries from a fast-food restaurant, then the portion size will vary depending on their own size guidelines. A small bag of French fries from McDonald's will be just less than 3 ounces at 2.8 ounces, which equates to around 220 calories.
By comparison, a McDonald's large portion of fries is more than double this size at 6.3 ounces. Large fries from McDonald's will contain approximately 540 calories. From this, we can see that understanding the recommended portion sizes could play a big part in maintaining a healthy weight.
Simply making the move from a large portion of fries to a small portion of fries will save you 320 calories from just one meal.
Other fast-food restaurants will have their own standard portion sizes, but you should bear in mind that in most instances, the smallest portion size available will be closest to the recommended portion size for an adult.
How Many French Fries in a Portion?
The number of French fries in a portion will differ depending on the portion size and the size of the individual French fries.
Here we will look at the number of fries you can expect to get in the recommended 3 ounces serving size. This is useful to know because most people will not go to the effort or inconvenience of weighing out their fries before they cook them, whereas counting out your fries is an easy task that anyone can complete while they are preparing their meal.
Doing this can really help to control portion size and lead to a more healthy lifestyle.
Wedges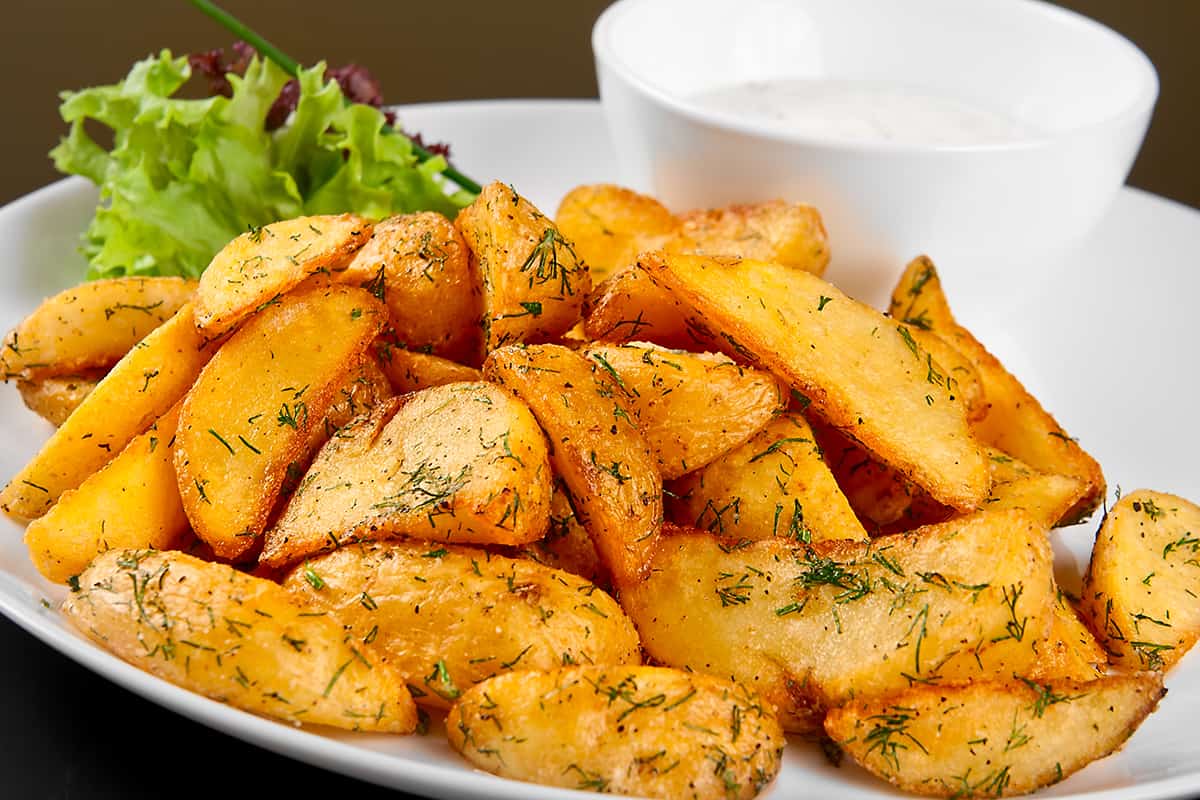 If you are trying to make healthier choices, then opting for larger cut fries can be slightly better for you because they don't have as much surface area overall, and therefore will use less oil during cooking.
Wedges can be a good option, and for a single adult-sized 3-ounce serving, you would be looking at between 7 and 10 individual potato wedges.
Waffle Fries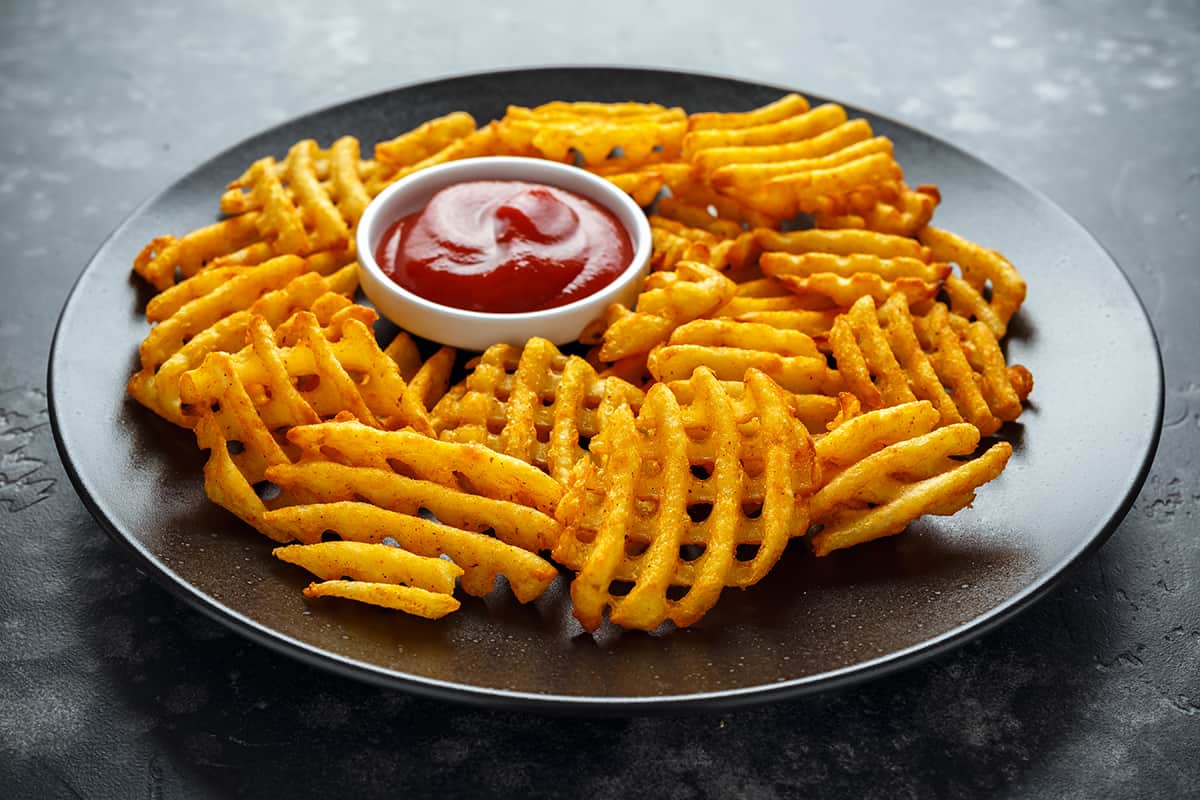 Waffle fries are another variation of French fries that are-shaped like waffles.
These are quite a bit bigger than regular French fries, and so you will get less of these in a 3-ounce portion compared to French fries. For a single portion of waffle fries, you can expect to get around 10 individual waffle fries.
Curly Fries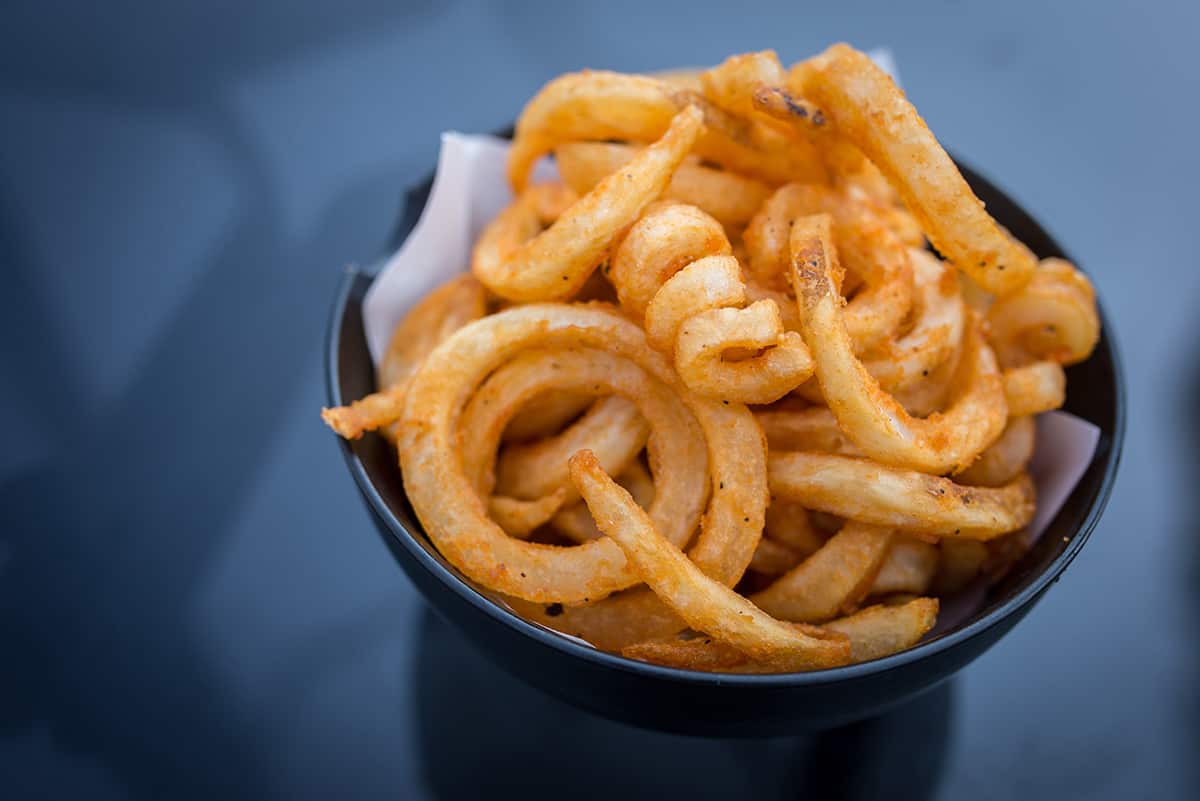 This is another popular variation of French fries, which can be bought in frozen form from the grocery store to cook at home or from fast-food restaurants.
Curly fries tend to be coated in a mildly spicy southern style coating, which makes them a nice change from regular French fries.
An adult serving size of curly fries would be around 3 ounces, which would equate to just 10 curly fries because these are quite large individually.
Shoestring Fries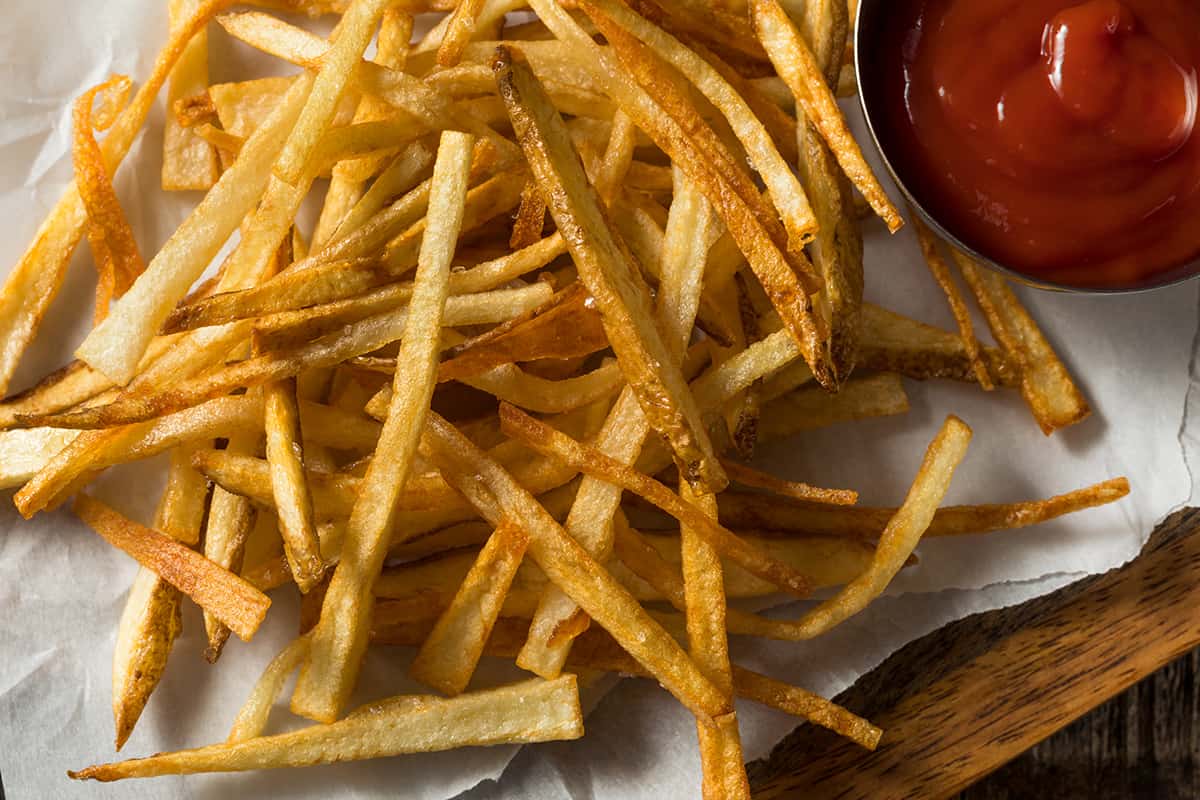 These fries are even thinner than French fries, giving them a long and very slender shape. Shoestring fries tend to be among the crispiest types of French fries because they are so thin that they cook very quickly, and there is only a few seconds difference between them being just cooked and overdone.
The fact that these fries are mostly made up of surface area with very little 'inner' potato means that they use more oil than most other types of fries, so they should be avoided if you are very health conscious.
As these are very skinny fries, a 3-ounce serving will contain many more individual fries compared with chunkier fries. In a single adult portion, you can expect to get anywhere between 30 and 40 shoestring fries.
Crinkle-Cut Fries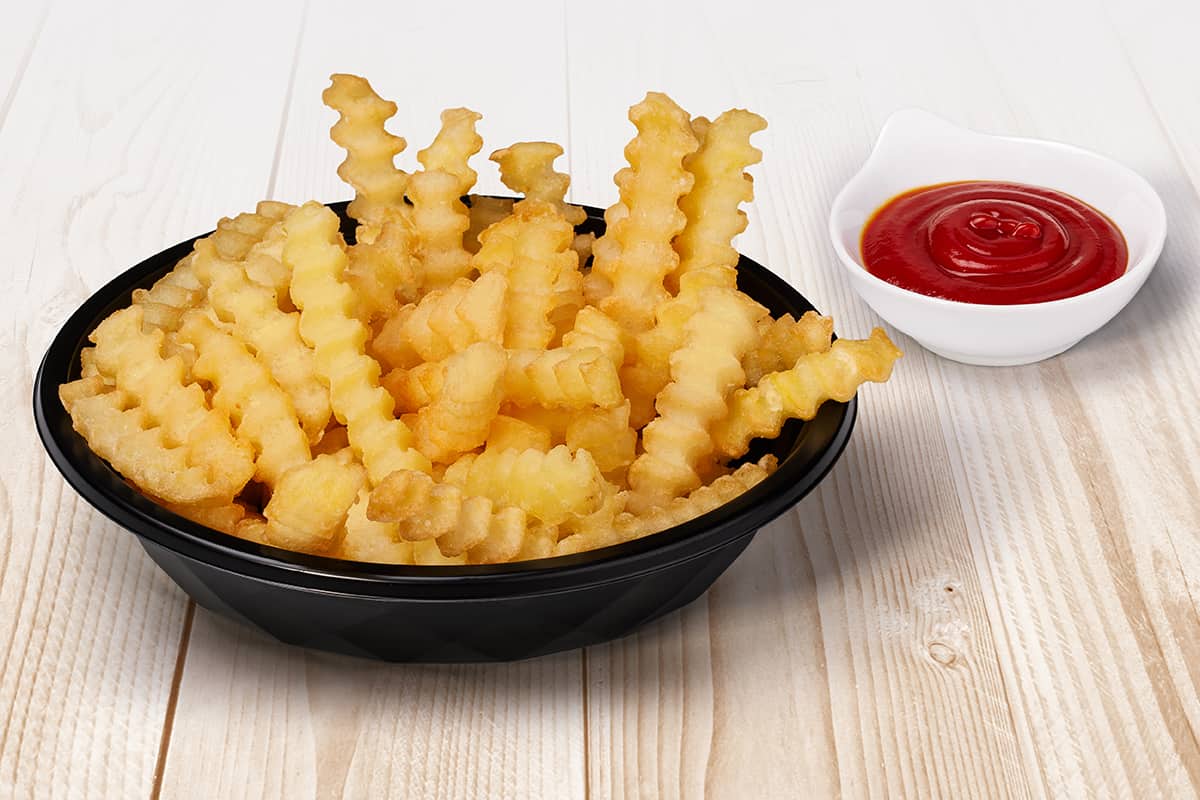 These fries are almost zig-zag-shaped, with indentations on either side that give them that crinkle-cut look.
It is unusual to find these types of fries in a restaurant, and instead, they tend to only be found in the freezer section of the grocery store. These fries are chunkier than standard French fries, and so in a 3-ounce portion, you will get around 14 crinkle-cut fries.
Steak Cut Fries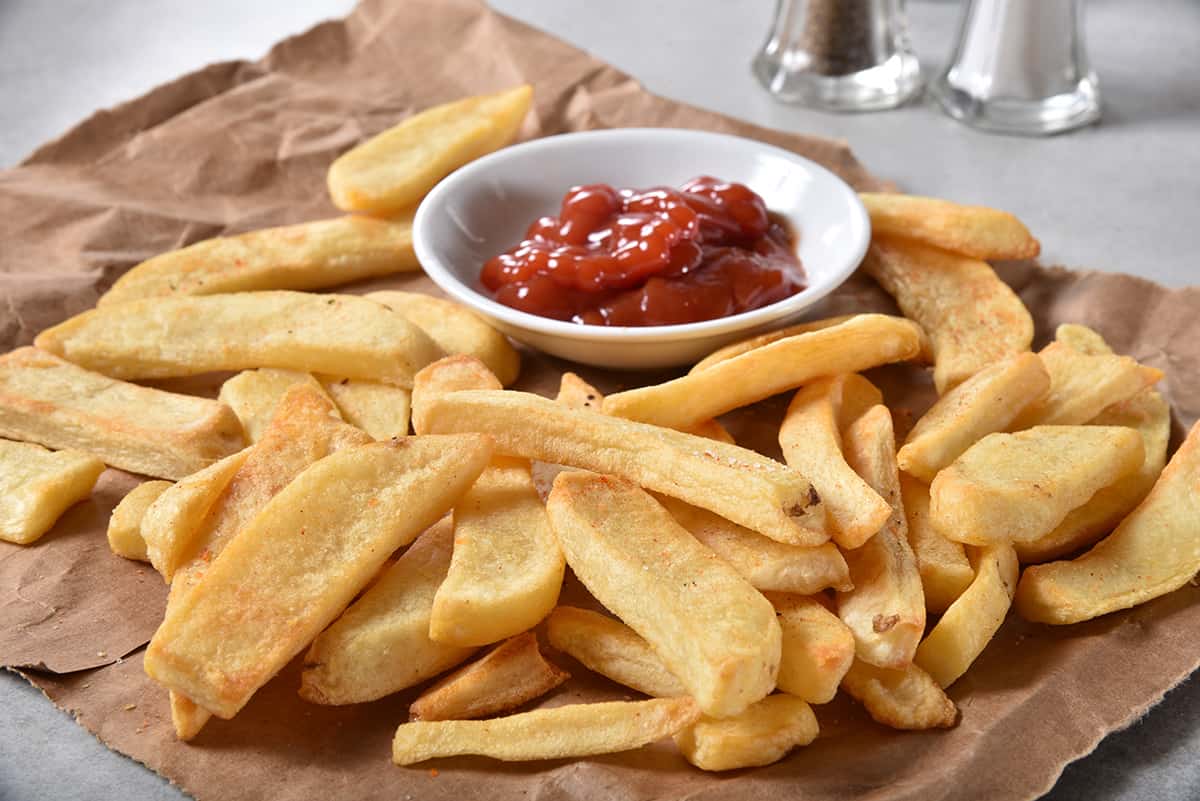 This is a chunkier kind of French fry that is usually paired with a cut of steak. These fries will not be as large as wedges, but they are among the biggest types of French fries available.
These fries are great fried, but you can also get them in the grocery store to be baked or air fried at home for a healthier option. As these are sizable fries, in a 3-ounce serving size, you will get around 12 to 14 individual steak cut fries.